Information et documentation
A country that continues to interest foreign businesses
Several reports published recently demonstrate that France is a prime destination for foreign investors. The analyses converge in terms of the reasons for its attractiveness.
In regard to the attractiveness of France, a document is a leading authority in this area: The "Bilan 2018 des investissements internationaux en France" (2018 Annual Report: international investments in France), which was published on 4 April 2019 by the public agency Business France.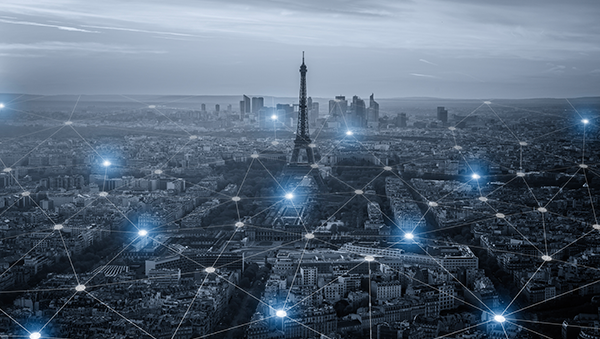 France preferred over Germany
The 2018 edition of this report, which is published each year, shows that the attractiveness of France increased once again in 2018 with 1,323 foreign investment decisions identified (the creation of new sites, the expansion of existing sites or company takeovers), which is an increase of 2% compared to 2017 (1,298 decisions). The 2018 figure is thereby a historic record. Last year, projects by foreign investors led to the creation or retention of 30,302 jobs compared to 33,489 in 2017. Another leading document comes to similar conclusions. The "Baromètre de l'attractivité de la France 2019" (2019 France attractiveness barometer), published on 4 June 2019 by the firm EY, shows that France remains firmly in the race with 1,027 projects by foreign investors in 2018, which is an increase of 1% compared to 2017. A historic fact, France has overtaken Germany, one of its historic competitors (973 projects, -13%) and is hot on the heels of the leader, the United Kingdom (1,054 projects, -13%). What is important is not the figure itself, but rather the fact that France is among Europe's priority destinations.
A leap forward in terms of image
A survey on the economic attractiveness of France, carried out by Kantar Public in November-December 2018 on behalf of Business France, among 753 foreign businesses, ("Baromètre de l'attractivité de la France," France attractiveness survey), is consistent with the results of the reports by Business France and EY.
This survey demonstrates that the image of France has taken a leap forward: 61% of foreign directors believe that the attractiveness of France has improved over the last two years. This is a 7-point increase compared to 2017, after a 16-point increase the year before.
A solid position on a global level
What does this mean on a global level? The annual survey by the American strategy consulting firm A.T. Kearney, "Facing a Growing Paradox. The 2019 A.T.Kearney Foreign Direct Investment Confidence Index®", published on 13 May 2019, also offers a positive result for France.
This report measures the global confidence index for countries likely to attract more foreign direct investments (FDI). France gained two places compared to 2018, and for the first time is therefore now in 5th place in the rankings. This marks "its highest place ever achieved", according to the Chicago-based firm. This study highlights the fact that the social movements and economic measures adopted as a consequence have not had a major impact on the perception of investors.
The importance of reforms
These results confirm the conclusions of surveys from previous years, and confirm the existence of a dynamic of international investment in France, despite a relatively unfavourable environment: deterioration of the international environment (Brexit, USA China trade war, signs of the return of protectionism, etc.) and social movements in France.
The return of foreign investor confidence can be explained mainly by the process of reforms rolled-out during François Hollande's term and amplified during that of Emmanuel Macron (labour market, professional training, apprenticeships, lowering corporation tax, unemployment insurance, retirement, etc.). "The confidence of investors has increased slightly since Emmanuel Macron became President in May 2017", suggest the American firm A.T. Kearney.
Employment prioritised
The French government has, in particular, taken steps on sensitive issues, that of removing the obstacles to employment in order to boost job creation: a phenomenon demonstrated by the fall in unemployment rates in 2019. Among the measures adopted, we note the Crédit d'Impôt pour la Compétitivité et l'Emploi (CICE, tax credit for employment and competitiveness), a tax benefit concerning businesses that take on employees and which results in a reduction in their social security contributions. The reforms put in place have strengthened structural factors in the attractiveness of France, evidenced in the previous studies: geographic location, quality of infrastructure, labour productivity and the potential of universities and research.
Unaltered long-term confidence
Even if their view is positive, investors are not handing France a blank cheque. The EY study even shows that the optimism of international directors over three years has decreased following the enthusiasm generated by Emmanuel Macron's election (30% in 2019 compared to 55% in 2018). Consequently, re-location forecasts have dropped five points (from 24% to 19%). 57% of directors say they are sensitive to the social and political climate on a European level.
For 47% of investors, France must continue in its efforts to simplify and modernise, according to EY. 44% believe that France has to become more competitive when it comes to tax. In the longer term, 37% of investors say that France must develop in the area of education and skills to maintain its competitive position in the global economy.
However, the image of France in 2019 remains highly regarded over the long term by 80% of investors, which shows that France's dynamic remains well-oriented. In other words, to be able to fully benefit from its assets, France must maintain its efforts in terms of reforms, according to the study mentioned above.
1,323
foreign investment decisions
30,302
jobs created or maintained
The image of France remains highly regarded over the long term by 80% of investors.
Contactez-nous